Our people
Isabel Barreiro - Formulator
Isabel Barreiro has worked as a formulator in the Spanish formulation department since 2016. In 2008 she obtained her veterinary degree. Isabel spent four years working as a researcher at the university and obtained her PhD, which she wants to present this year. Before becoming immersed in the world of animal nutrition and working in a small farming cooperative, she worked as clinician.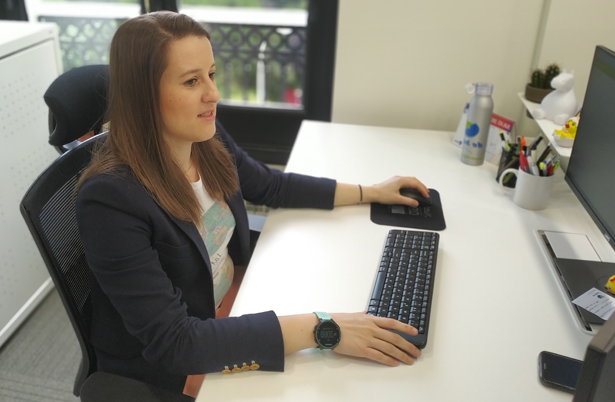 Focus on quality
Isabel joined De Heus in 2016, the same year that the company embarked on its Spanish adventure. "So I have seen all the changes that the company has made in Spain. I can't mention them all, but the one that stands out for me is the change in the business idea, the focus on the quality of our products," says Isabel.
Your problem is mine too
Isabel: "My work in formulation involves many things. The main thing is deciding the composition of the compound feed depending on the nutrient requirements. In Spain, each formulator is currently responsible all the species (except aqua). We divide our work by factories, we now have 12, and one more in progress. But my work also includes managing labels, additives, drugs (in Spain we still use drugs in the compound feeds), checking out new ingredients… which is what makes my job so diverse. I usually say that in Spain my department is one of the most hated and loved at the same time. Hated, because our response is sometimes not fast enough and loved because we solve a lot of issues as soon as we can. My motto: your problem is mine too, because we are all in the same boat!"
Work like one
"I am proud to work for an international company like De Heus and be part of its continued growth. What's more, this company makes you feel you are an important link in a huge chain. From my point of view, the employees are the most important thing in our company. We all work like one, trying to do our best to lead the company to the next step. I would also like to mention the good relationship between different business units. If I need help, I feel able to ask for anything. This happens frequently and it is a good way to learn more," says Isabel.
Push to improve knowledge and skills
Isabel enjoys working for De Heus because every day she is pushed to improve her knowledge and skills. "This is something that I need in my working environment. I like to learn something every day and at De Heus I can do that," concludes Isabel.