Our people
Luís Felipe Arelaro Artioli - Ruminant Nutritionist
Proactive, easy to communicate with, always seeking new knowledge, quick thinker, finding quick solutions to the daily adversities - these are some of the qualities that have contributed to the achievements and experiences of Luís Felipe Arelaro Artiolio, Ruminant Nutritionist for De Heus Brazil.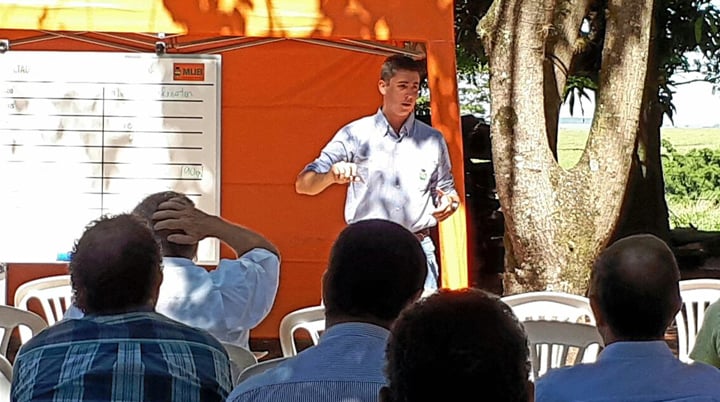 Luís has a degree in animal sciences and a master's in ruminant nutrition. Having started his career at De Heus Brazil as MUB sales promoter, he now works as a Ruminant Nutritionist and is intensively involved with the entire line of ruminant feeds. He is responsible for supporting the commercial team, contributing to each member's training, directly and indirectly reaching the rural producer and boosting farm productivity.
Zootechnia: a family passion
"I was born in the countryside and I've liked animals since I was a child. My family had a small farm and every weekend my cousins and I would go and ride the horses, gather cattle and watch the sheep and chickens. At the age of 14, I decided that I wanted to be a zootechnician. My uncle, who spent 30 years working in animal nutrition, specifically with Ruminants, was my great inspiration. I always admired his work a lot," says Luís.
A day in the life of a Ruminant Nutritionist
Luís: "I usually spend 50% of the time in the field and the rest in the office. For the field visits, we plan ahead to optimise the time, because distances are long in Brazil. We train sales representatives, give technical workshops and plan visits to current and potential customers. At the office, I work a lot with the nutritionist and product managers. We are responsible for monitoring ruminant formulas and quotations for new products. In addition, we provide technical support for the commercial team, remotely or in person, and prepare technical materials and scientific research."
Working at De Heus
"Every day, I am able to help my commercial team colleagues improve their productivity and monitor the development of rural producers who use our products and knowledge. I find this all very rewarding! I enjoy my work and I am sure that everyone feels the same. In addition, De Heus is a good work environment, a good leader and it offers great opportunities for personal and career development. A multinational company with a long history and a unique culture led by four generations," concludes Luís.