Our people
Łukasz Kowalski – Cattle specialist
Five years ago, Łukasz joined De Heus Łomża North team as a cattle specialist. He is responsible for sales development based on nutritional consulting in the north-east of Mazovia. His hobby is football.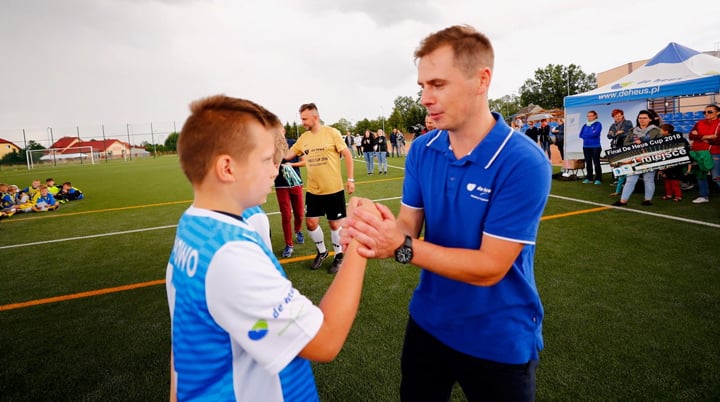 Turned hobby into work
Łukasz: "I have been working on a family small farm since I was child. Working with animals became my hobby so I went to study Zootechnics." In July 2015, Łukasz graduated from the Faculty of Animal Science at Warsaw University of Life Sciences and joined De Heus. Now he is continuing his interests at De Heus as a cattle specialist. "This is my first serious job that relates to my interests and education. I have met many interesting people in my team and whilst visiting my clients. But the best thing is being able to improve my knowledge and experience," Łukasz concludes.
We do more than feed
Initially Łukasz thought that De Heus was only a feed company. But the De Heus slogan 'we do more than feed' quickly proved to be true. "In 2018 a football tournament for children was organised, De Heus Cup, as a part of our CSR 'We act and support' effort. I actively participated in the entire project. One of the tournaments took place at Goworowo – a small village that is part of my work area and I co-organised this event with my colleagues from Łomża North team. We invited children and their parents and local residents to take part. De Heus Cup is not just a competition. There are also picnics aimed at promoting a safe and healthy lifestyle. During this event, I was able to combine my work with my hobby."
Make our customers happy
There's always something to do at De Heus. That's very important to Łukasz. "I am a feed advisor for dairy farmers. But my job is also to acquire new clients. During the farm visit, together with the farmer, we analyse, calculate and look for the optimal nutrition solution. In everyday work, an indispensable tool for this purpose is FeedExpert – the cattle feeding programme. It allows me to precisely balance the food dose, tailored to the needs of a herd of cows. My greatest satisfaction is when my recommendations bring the expected effect. I feel that our business is to make our customers happy. As a cattle specialist, I help farmers improve their milk production. On the other hand, I also enjoy working with feed dealers."