Our people
Marko Calic - Sales Advisor Ruminants
Marko Calic has been Sales Advisor Ruminants with De Heus Serbia for nearly 2.5 years. Initially, his job involved working with dealers and retail customers. After six months, he was given the opportunity to move into the animal sector for which he could receive additional education and training. Such internal specialisation makes it possible to cooperate with farmers at a special, expert level. Due to personal preference and private experience, Marko decided to join the Ruminant Team.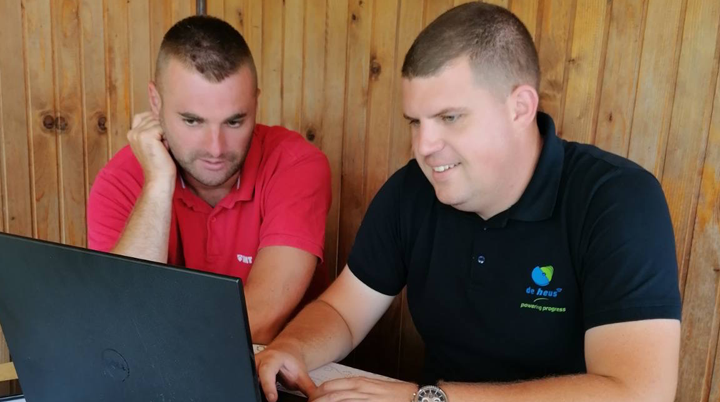 Communication
Although young, Marko has many characteristics that could be attributed to a more mature person. Moderation and modesty characterise him as a person. When it comes to work, however, he is very ambitious, controls situations well and manages actions that lead to the targets. He always finds the right way to communicate with his customers, but also with colleagues and other associates. This is exactly what De Heus appreciates as a core value and what is expected of all our employees.
In the service of the customer
"I have weekly and daily work plans that include the number and structure of visits in the assigned territory. When visiting farms, I start by evaluating roughage on the farm and recommend the use of one of De Heus' wide range of ruminant products. I also calculate the nutritional value of meals and monitor their use, until the optimal result is achieved. This task is sometimes easier, sometimes harder, and it all depends on whether the farmer sets the right goals for himself and his farm," says Marko. It is Marko's good communication with farmers that facilitates the work and makes people trust him and the company he represents. "I often end up helping the farmer, whether cleaning the facility, giving feed or even helping with the calving! Farmers very much appreciate me for that."
International experience in local circumstances
For someone working in this position at De Heus, there are some privileges that cannot be experienced in another company. "De Heus is an international company, which means that I travel a lot. I meet colleagues from other countries, so I can learn a lot from other people and have new experiences and opportunities. It is this exchange of experiences and opportunities to acquire knowledge that is invaluable!", says Marko.
When a calf becomes a high-producing dairy cow
Marko has participated in many projects. However, he is most proud of the projects that started two years ago on the farms where the calves were fed according to the De Heus feeding concept and which are now high-producing dairy cows. The subsequent satisfaction of such farmers guarantees their loyalty and long-term cooperation and provides Marko with an incentive for new successes.
Improve yourself every day
According to Marko, the greatest satisfaction of this job is being able to improve yourself every day. On the other hand, it is also very satisfying to see the farmer achieve his vision and have success thanks to the advice and support you provide on behalf of the company.