Our people
Michiel Peters - Manager Corporate Affairs
What is the responsibility of De Heus in our food production chains? How can De Heus increase the sustainable production of safe and healthy food? How do you influence public policy and advocate on behalf of a company or a sector? These are questions that Michiel Peters, as Manager Corporate Affairs, tries to answer.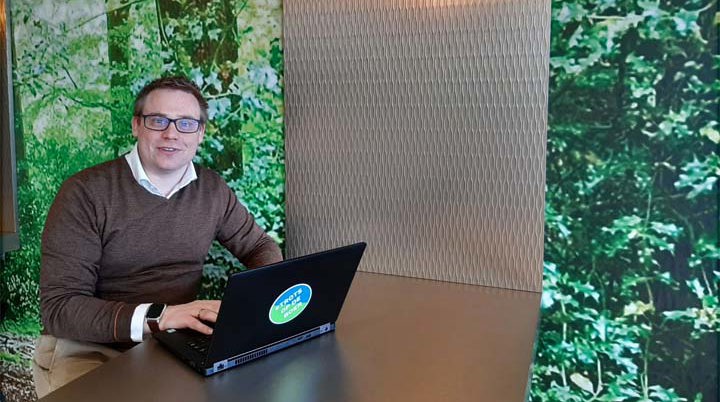 At the head office in Ede, in conversations with policy makers and NGO's or at the kitchen table of one of our customers. You never really know where Michiel is when you try to reach him. "I think that's one of the nicest things about my work. Talking to people, see what you can learn from each other, engaging in conversation."
From politics to De Heus
Michiel decided to join De Heus after six years of working for a political party in the Netherlands. "I took me a little while to adjust. I'm not from the agricultural sector and I really needed to delve into it to understand it better. That means lots of reading. Spending time one the road with some of our specialists, visiting farmers, asking questions and listening."
Show that we are ahead
Explaining what is happening in the agricultural sector in a way that is easy to understand is important. "It is important that we show people what our impact is. In the Netherlands, but also in the other countries where we are active. I think that our global presence also comes with a global responsibility. Which is why we show people what we do and why."
Earn back investments
"The global challenges regarding the production and availability of food are huge. But they differ greatly from country to country. For example: In the Netherlands – where there is much discussion about the environmental impact of food production – we can work towards even more sustainable production. But farmers must be able to earn back their investments. I sometimes miss that sound when I hear Dutch politicians or policy makers talk. At the same time in a country like Ghana, where the agricultural sector is far less developed, the activities of De Heus help strengthening local supply chains and increase the availability of affordable, safe and healthy food. "
Introduction of sustainability program: Responsible Feeding
"It's great to work for a company that is active all over the world. That cares about its impact within the food production chain. Which is why I am really happy that we will be rolling out a new sustainability program this year. The program – which we call Responsible Feeding – is meant to help our business units with their choices regarding sustainability. I hope we can share our first projects later this year."
Beautiful initiatives
Michiel also gets excited by initiatives that strengthen the reputation of the agricultural sector: "We did a special edition of Kidsweek an newspaper for kids about our activities and the workings of farms in the Netherlands. We'll go through with things like that. Because so many beautiful things happen, in the Netherlands and beyond."