Our people
Paul Spoelder - Grain Purchaser
As raw materials purchaser, Paul Spoelder is responsible for the basis of De Heus's products. To be able to take the right decisions at the right moment, he needs to know the market inside out. It's the complexity of the market which he loves. All his work is about gathering knowledge. He may be purchaser, but he doesn't do much purchasing. He reads all the articles, reports and discussions that can indicate market movements and enable him to act at the right moment. The best batch for the best price.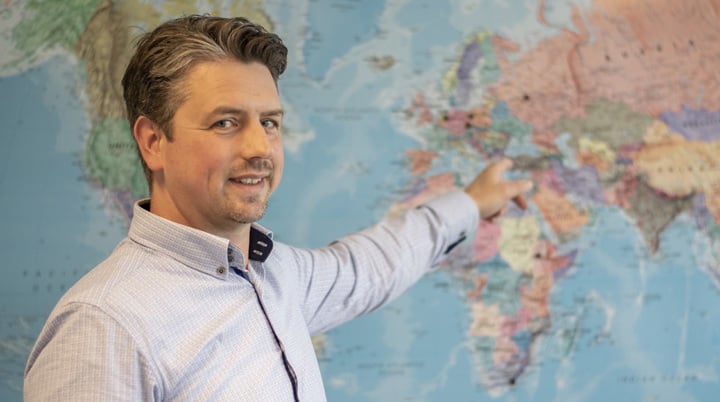 Dynamic global economy
De Heus usually buys its raw materials via dealers and producers in Europe. Nevertheless, it's important for Paul to monitor developments all over the world. In that respect, De Heus's international subsidiaries are a very valuable asset. 'Supply and demand mean that there's naturally a worldwide flow of raw materials.' These flows are disrupted by trade wars, levies, weather and many other factors. 'I really enjoy charting all these developments, so that we can get the best deal.'
Risks
The purchasing department does well at De Heus. Paul feels that isn't just because of the people who understand their trade, but also because of the organisational structure of De Heus. Unlike other compound feed suppliers, De Heus is a family-owned company. Entrepreneurship is in the company's genes. That means that the management is prepared to take risks. And such willingness is not always apparent in other companies, where shareholders make certain demands. 'Taking bigger risks can obviously turn out badly, but the right approach can also deliver great advantages. And our customers benefit from that,' says Paul.
Livestock farming
Paul studied livestock farming. But during the final year of his studies, he discovered that he was more interested in the world of suppliers. Its dynamic character particularly appealed to him. In that respect, he's certainly in the right place here - during the interview the phone goes continually. The person on the other end talks animatedly, but Paul stays calm and issues his instructions in a few words.
Paul's purchasing tip
As a purchaser for De Heus, it's difficult to advise individual livestock farmers. But Paul does have a tip. 'Don't let your choice depend on the price. Other things are important too.' Take quality, for example. 'Something might seem cheap, but could really be rubbish that doesn't benefit you at all.' He also mentions delivery reliability. 'Are you getting exactly what you asked for, when you asked for it?' These might seem obvious questions, but for De Heus it's important to ask them every day.