Our people
Paula Gabriela Henriques - Technical Assistant of Monogastric
Paula Henriques was born in Mozambique and has always had a passion for animals. She says it is in her genes. After graduating in Zootechnical Engineering, she decided that her primary objective was to help improve the living conditions of animals. She is currently a Technical Assistant of Monogastrics, with enormous experience in the animal and feed sector. She began her career in the mid 90s, maintaining her connection to the company that became part of the De Heus Group.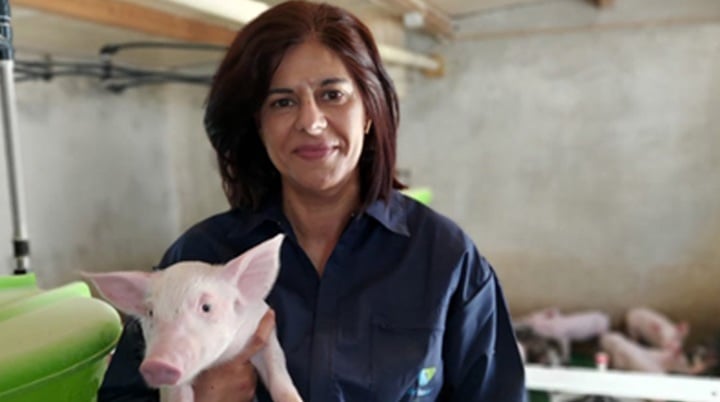 First steps
She started her career at the CUF Feed factory but made an interregnum to lead a pig farm because she wanted to be in the field. After this experience and following her personal rule of 'first we have to do it to better understand all processes', she returned to CUF to work in the technical and commercial area. Having experienced these two realities gives her a better understanding of people and situations because, as she explains: "It is essential to create a connection between the technical assistant and the client."
Sense of responsibility
It is inevitable that sales teams do not feel the pressure of the market, so it is "fundamental to ensure customer satisfaction and establish a relationship of trust and security," says Paula. She therefore feels great responsibility in her job because the management of each client inevitably has an impact on the company results.
Busy days and focus
"The work is a daily challenge, for which we need to equip ourselves with the necessary tools. In addition, it is essential to be committed and have joy in order to do my job" says Paula. To manage her geographic sales area, the day starts early: "I need to plot routes to visit as many customers as possible and carry out various prospecting actions. Even if I cannot make a sale, at least I have introduced the company and our product range." After a day spent outside the office, "I perform all my administrative tasks at the end of the day, when there is greater availability".
Personality and character
"Happy, humble and adaptable" is how Paula describes herself. "I am happy when I make a difference to someone's day." Humility should not be considered a weakness. "It is more about being able to put myself in a position to perceive the importance of things." A Technical Assistant needs many skills, but the ability to adapt and reinvent is fundamental: "We need to be able to adapt ourselves to concrete situations, not forgetting or giving up our principles, but putting ourselves in someone else's position. That is half way to achieving the goal."
Development
Since the company joined the De Heus Group, Paula has seen many changes. "I feel that today people matter and are valued. It is good to know that we can share our opinions. We can also attend various training sessions on a voluntary basis, which promotes professional growth and evolution. Companies are the people, so we must always be up to the challenges presented."
Working for De Heus
"Sense of belonging". This simply describes what it means to work at De Heus. According to Paula: "I have become a more confident professional. Today we can access a diversity of scientifically proven information and sharing is a constant. There is always a colleague who has experience in the field that we can turn to".