Our people
Rachel Thwe - Project Manager
What role does sustainability play in De Heus Myanmar's (DHM) food production chain? How can DHM increase sustainable production of safe and healthy food locally? How can DHM contribute to the local community through our rich history of knowledge and expertise of the livestock industry? These are the questions that Rachel Thwe, Project Manager of De Heus Myanmar, strives to answer.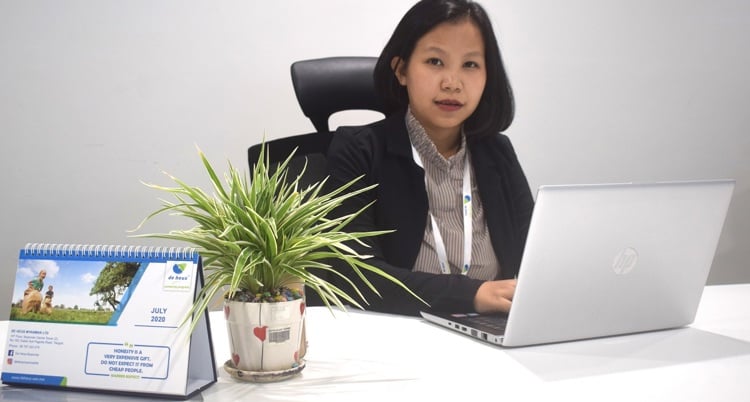 Meet Rachel
Rachel is an active and enthusiastic individual who is always willing and ready to take part in DHM's many public-private partnership projects (SAPA, MMPIGS, PAP, etc.). She is also responsible for the Responsible Feeding Program in Myanmar. She joined De Heus Myanmar in November 2018 and has since played an important role in strategizing, coordinating and initiating work between external and public sectors, as well as with government organisations.
Building a sustainable supply chain
Through the 'Responsible Feeding Programme', which is one of De Heus main core values, Rachel says she is able to express her passion for building a sustainable supply chain that will benefit the local suppliers and livestock farmers of Myanmar in the long term. Rachel: "It is a great opportunity for me to be able to work on De Heus Myanmar projects knowing that the effort I make will always directly or indirectly impact the individuals who are invested in elevating the livestock industry in our country. In addition, by working on the projects, my team and I are able to share our passion and knowledge with the participants through lectures, hands-on training, discussions and activities. I think that the way we approach our critical stakeholders is what makes us unique in the market."
Increase the availability of affordable safe and healthy food
Rachel explains why she believes that building a sustainable supply chain is an important topic that needs to be addressed and acted upon for the livestock industry in Myanmar. "Currently, high food consumption is a challenge in some countries. It is even more of a challenge to try and achieve a supply chain that can sustain the burden of the continuous rise in consumer consumption without jeopardising the needs of our future generations. That is where I believe our country should move towards and that is also one of the main reasons for all the activities that we do in De Heus Myanmar. On the other hand, it is also important to look after our suppliers and livestock farmers and help them strengthen their economic position whilst increasing the availability of affordable safe and healthy food for our end customers," says Rachel.
The bigger picture
"I am positive that by working closely together with key individuals from all parts of the local supply chain and by bringing in the tight support and effort from the employees, De Heus Myanmar will be able to continue its progress towards achieving our vision in the bigger picture," Rachel concludes.