Successfully implementing NIRS in your operations
Near Infra Red Spectroscopy (NIRS) technology is undergoing rapid development, and the number of applications for the feed industry is constantly increasing. The analyzing of ingredients and monitoring of production processes are important factors in ensuring cost-effective feed production, and Koudijs considers NIRS technology to have significant added value in those areas. In this article, we explain how Koudijs can assist you in the successful implementation of NIRS in your operations.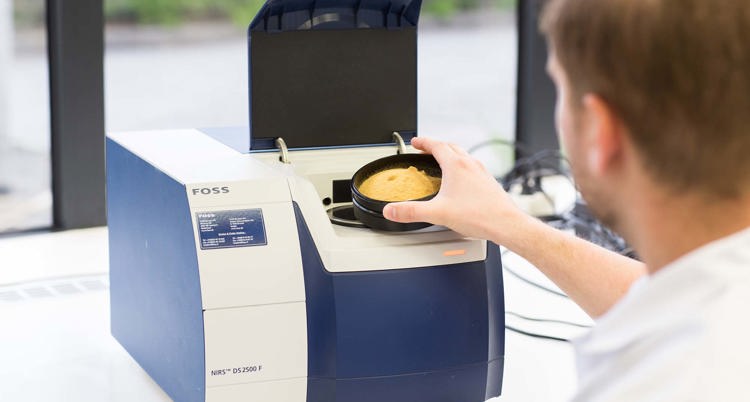 How NIRS works
NIRS generates information by exposing a sample to infrared light, which is partially absorbed by the sample. The degree to which the sample absorbs the different infrared wavelengths is dependent on its chemical composition. This absorption is registered, and a spectrum of the sample (Fig. 1) is generated based on the data. A sample's spectrum is highly characteristic, and can be considered its infrared "fingerprint". However, this fingerprint is highly complex, and does not provide any nutritional information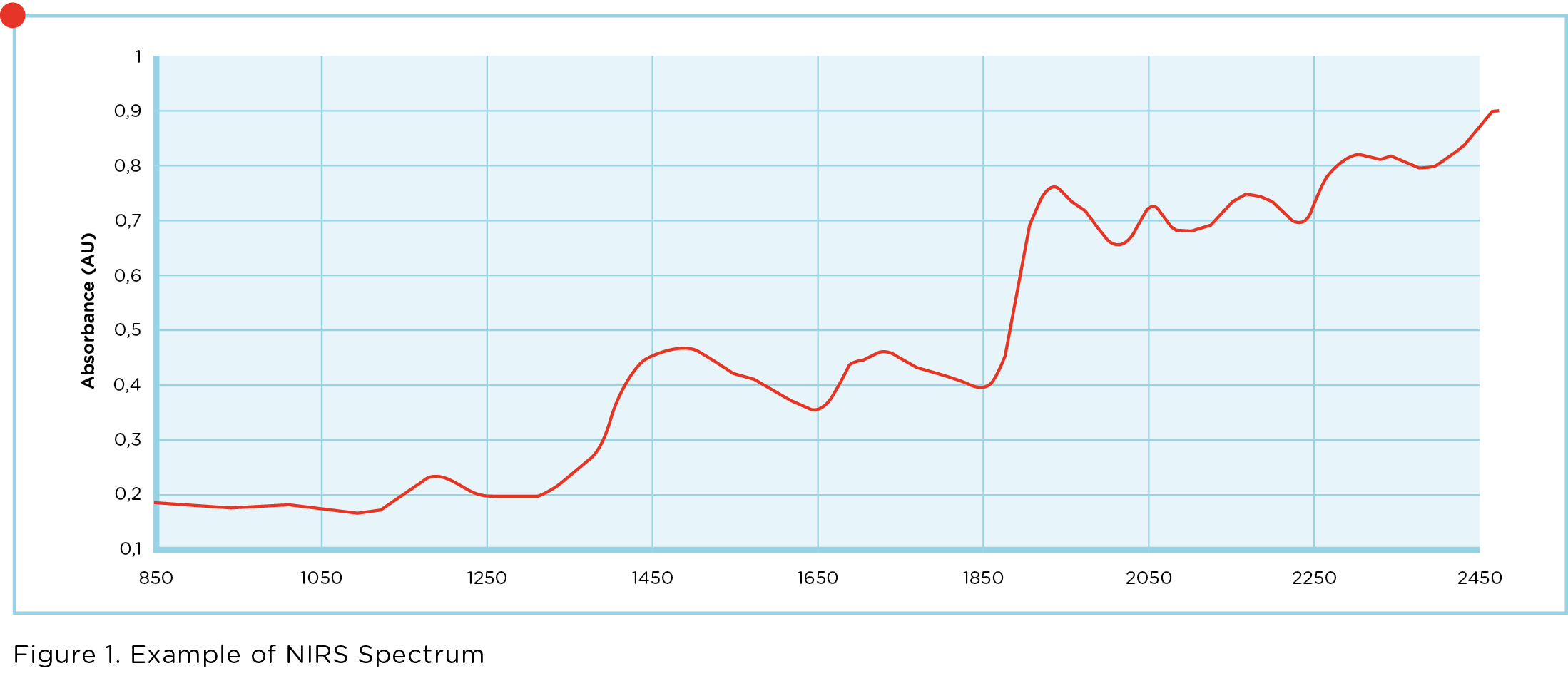 on its own.
Accurate calibrations
For converting the spectrum to required nutritional information so called 'calibrations' are needed. Calibrations are generated by combining the NIRS spectrum with wet chemical analysis for the specific nutrient. The number of analysis and the variation in analyzed nutrient levels influence the accuracy of the specific calibrations. The accuracy of NIRS also depends on the type of product and the type of analysis. For these reasons, it is important to be informed about the accuracy of the calibrations in your specific situation.
Koudijs is experienced in producing compound feed and purchasing raw materials all over the world. Also, we are using NIRS since many years in our own laboratories. Because of this we have a wide range of calibrations for raw materials available and are virtually unique in the accuracy of calibrations for finished products.
Implementing NIRS
When used correctly, NIRS can generate real-time and accurate results at a low cost. Its greatest risk is that it is possible to collect an excess of data, risking subsequent misapplication. NIRS can be used for different purposes in your operations:
Purchasing (product intake & order processing)
Formulation
Process control for finished products
Using NIRS correctly begins with good sampling management. The data from the collected samples must then be analyzed and processed, on which basis attention points
and action items can be identified. The required frequency and extensiveness of analyses depends on the market situation and customer-specific preferences. Thanks to
our experience with all these processes, we are a reliable partner to support you in the implementation of NIRS in your operation.
Koudijs NIRS support
Koudijs understands feed production, and knows that NIRS is a valuable addition to operations in this area. Choosing Koudijs means choosing an expert organization that takes full responsibility for ensuring the proper functioning of your NIRS application and that will provide you with all the support you need:
Assistance with the purchasing of an NIRS analyzer & associated tools
Access to our calibrations
Additional wet chemical analyses in our laboratories where required
On-site training of your employees
Advising on the implementation of NIRS in your operations.
Koudijs is not only a supplier of tailored products, it also offers nutritional solutions for market-specific situations. We can provide NIRS in combination with our Feed Formulation Program. Please do not hesitate to contact us should you require any additional information.