An interview on sustainability with Co & Koen de Heus
De Heus Animal Nutrition is led by the fourth generation of the De Heus family. Co and Koen de Heus both have the role of CEO and lead the company together. We interviewed Co and Koen to find out more about their view on sustainability.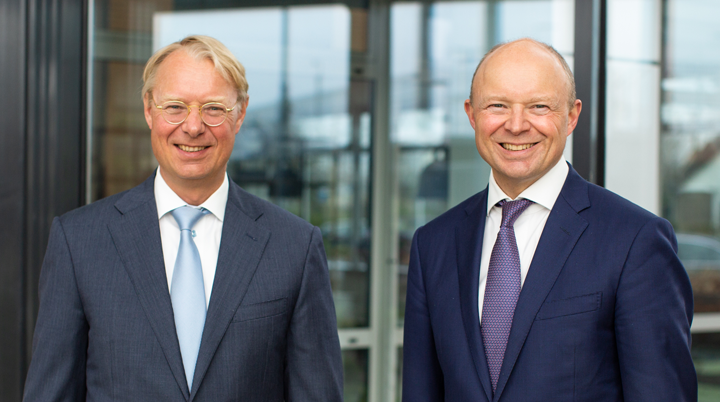 In the past, both of you have often talked about sustainability in relation to stewardship. Why is stewardship important to you?
Co: "From the very start of our business in 1911, values such as heritage and stewardship have been important to the family. We have always stuck to the conviction that you have to cherish what you have and take care of your business and its heritage, whilst keeping an eye on the future."
"Additionally, it's important to realise that we want to transfer the company from one family generation to the next. In a sense, for us sustainability is also about the ability to keep your activities going for generations to come," says Koen.
From your perspective, what is the connection between stewardship and sustainability?
Koen: "I believe that this is a good time for us to reflect on our interpretation of 'heritage' – what do we leave behind for the next generation – and – stewardship – our responsibility to look after the planet. Because when you look at the current state of the food production chains that we as an animal nutrition company are part of, there are huge challenges that we need to overcome."
"Precisely. Look at the number of people we need to feed in 2050. The world's population is expected to grow to 9.8 billion in the coming decades. Providing access to safe, healthy and especially affordable food is one of the biggest challenges the world faces today," Co adds.
Koen continues: "At the same time, we need to reduce the impact our food production systems have on the climate and the environment to protect vulnerable ecosystems. To achieve both goals, we need to produce food more efficiently to prevent excessive land use change in the near future."
Has your opinion about the importance of sustainability changed over the years?
Co: "Absolutely. We have always thought about future generations. In the past, this thinking might have focused more on the company itself and its continuity. Gradually we realized that we needed to broaden our thinking and reflect on the impact of our activities on the climate and the local communities we operate in. This was also the reason why we redefined our company's vision and mission a few years ago."
Can you tell us more about the changes you made to the vision and mission?
Koen: "Three changes that we made are really important to us. Firstly, we clearly state that we contribute to the sustainable availability and accessibility of safe and healthy food worldwide, with the utmost care for climate, environment and animal welfare. Demonstrating that the impact of our activities is important to us."
"Secondly, we really want to contribute to the development of the agricultural sector in the local communities we operate in. Meaning that we want farmers to develop their business alongside our own," adds Co.
Koen continues: "Thirdly, we emphasised that we want to achieve our ambitions together with our employees. Showing that we want to take responsibility for a more sustainable future together." "After the process of redefining our vision and mission, we also decided to start up the development of our new sustainability programme – called Responsible Feeding," says Co.
"As a family business in animal nutrition, we provide a growing contribution to sustainable production of safe and healthy food. We do this by advancing our customers – the producers of meat, fish, milk, and eggs – and by continuously improving quality, transparency and cooperation throughout the food production chain."
How did these thoughts drive the development of the Responsible Feeding Programme?
Co: "We feel responsible for our role in the food supply chains we operate in. So, when we developed our sustainability programme, we looked at what we do best to see where we can have the most impact. We built the programme around our core activities. Effectively converting raw materials into high quality animal feed, increasing animal health and welfare, helping farmers grow their businesses and work together to solve the problems they face every day."
"Often we start new activities in countries where the agricultural sector is less developed. These activities work as a catalyst for the development of the agricultural sector as well as the living standards of the local communities. We help local farmers improve the quality of their crops to gain access to local resources and share our knowledge on animal husbandry with our customers, because we believe that sharing is multiplying," Koen adds.
Looking at the future, what are the most important priorities when it comes to sustainability?
Koen: "If you look at the Responsible Feeding Programme, we cover a lot of different topics related to sustainability and the core activities of De Heus. For us, the most important are the ones that are probably perceived by many as the most difficult challenges to tackle when it comes to the production of animal proteins. The origin of the raw materials – especially soy – that we use to produce our feeds, the CO2 footprint of our production as well as that of the entire supply chain we operate in."
"Also, the reduction of the use of antibiotics to prevent antibiotic resistance – which is a major problem worldwide – and of course the development of our customers. Sharing knowledge with farmers to help them improve their businesses – for example by helping them switch from open to closed housing systems in Asian countries, presenting the results of these changes and giving them access to the knowledge they need to make it a success. This is good for them and their families, but also increases production in a sustainable way. Which for me means healthier animals and safer food," Co continues.
"We try to focus on the long-term development of our company and the agricultural sector. Because we believe that sustainability is also about the ability to continue your activities for generations to come," says Koen.
Is this why the sustainability programme called Responsible Feeding?
Co: "For me it is. Because it shows that we consider sustainability as a core part of our activities. We can only tackle the global challenges we face if we can increase feed and food production for a growing population in a responsible way. We call it Responsible Feeding because for us it connects the availability of safe, healthy and affordable food for a growing population with our core activity, which is effectively converting raw materials into high quality animal proteins."
De Heus is active in many countries. How do you assist them with this programme?
Koen: "There are lots of differences between the countries we operate in. For example, you can't compare the market conditions in the Netherlands with those in Serbia or Indonesia. At the same time, there are many similarities too. Access to safe and healthy food is important to everyone. And as a market develops, we see the same issues arising that have often already been tackled in countries where the market was more developed in an earlier stage."
"That is why we have developed an implementation process that takes these differences into account. We help the management teams of our business units analyse which topics are most important in their markets. Allowing them to focus on the sustainability activities that have the most impact in the communities we operate in," adds Co.
Koen: "We believe that it is important to allow as much local initiative as possible, because people get more involved when they can really have an impact on what they are working on. Additionally, we are working on a number of global ambitions to give guidance on the most pressing sustainability issues associated with the sector."
How do you involve your employees and are they enthusiastic about this programme?
Koen: "We find that the programme produces great enthusiasm in the organisation. Especially among the younger generation. Which is good. Because the steps we need to take in the coming years not only require the support and enthusiasm of me and Co, but also that of all our employees. I really believe this programme can only be a success if everyone gets behind it and shares their ideas on where we can do better."
"Internal and external communication is key here. We share a lot of stories about the activities we undertake in our business units. We try to involve and inspire our colleagues more and more. For example recently we have hosted a global sustainability summit where employees from all over the world joined us online to talk about our global sustainability ambitions."
Can you give us some insight into these global sustainability ambitions?
Co: "Of course. These ambitions – which we have decided to call our global green goals – aim to guide us towards tackling the global issues we mentioned earlier. The sustainability of the raw materials we process, our carbon footprint, the reduction of antibiotics and obviously supporting farmers in the development of their businesses. We believe that these issues are relevant in all our business units and deserve guidance and direction at group level."
"We want to achieve these ambitions in 2030, tying them to the horizon of the sustainable development goals – as defined by the United Nations – and allowing us to really take on tough challenges that cannot be achieved in one or two years. Defining these goals helps us integrate sustainability into our strategy," adds Koen.
How do these global green goals connect to the Responsible Feeding Programme?
Koen: "The Responsible Feeding Programme is based on the premise that every country faces its own challenges. Every business unit needs to pick those activities that have the biggest impact in the markets and communities they operate in. Every business unit goes through the same implementation process, but the outcome will be different depending on the local challenges. The global green goals are the same for all business units and are placed on top of the local activities, because we believe that the goals are important regardless of the local market and communities. They really are global challenges and they deserve a global answer."
What are the activities that you are most proud of?
Co: "I think the research we've done over the past twenty years to improve the feed conversion of our products has had the most impact. Because, if we need fewer raw materials to produce the same amount of animal protein, that's more sustainable and allows us to increase production worldwide."
"Helping farmers develop and professionalise their business has a great impact as well. When I look back at the first activities of De Heus outside the Netherlands, it really makes me proud to see that there are farmers who have grown their business alongside our own. Often in countries where access to safe and healthy food is still a daily struggle. Essentially, our activities have helped them strengthen the food supply chains that we are part of," Koen adds.