The extra knowledge that is shared by our milking robots helps us move forward
Located in Oldetrijn, a small village in the lovely Dutch province of Friesland, is the farm run by the Bergman family. A year ago, Jan Harm (21) joined his parents Harm and Anneke to help run the business. They have around 125 dairy cows, with a total annual production of 1.35 million kilograms from three DeLaval milking robots. Why did they switch to milking robots and what are their experiences?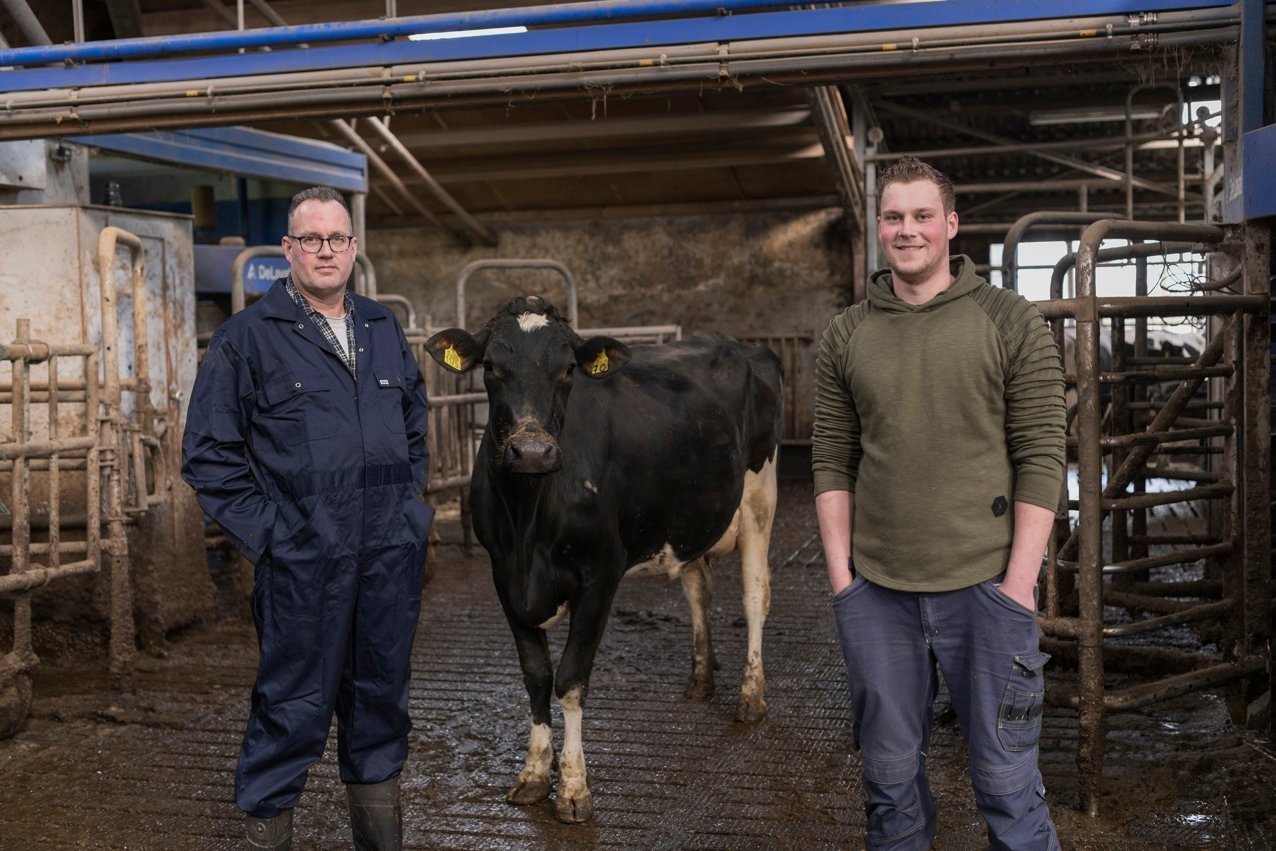 Why did you start using milking robots?
Harm: "Our milking parlour needed replacing, mainly because it could no longer manage the capacity. The limited space meant it was hard to adapt the milking parlour and therefore expensive. We would also lose some of the service pen. And we didn't really want that. When we compared it with the investment required for the milking robots, we found that, because of the competitive quote, they weren't much more expensive. "
Jan Harm: "I was still a bit sceptical whether it would be an improvement for our farm, but that was also because I enjoy milking. If I had to choose again, I would certainly choose robots."
You started with two robots and now you have three. Why?
Jan-Harm: "We started with two milking robots. We already had our milk tanks and cow identification system from the same brand. Things were fine at first, but the robots were always full. With only 4% free time on the robots, we were well below the norm of 10-15%."
Harm: "When we dried off groups of cows, we found that the robots immediately operated better. We had a lot of cows which were difficult to milk and which needed too much time on the robot. That was one of the reasons we got number three in 2018. And I'm glad we did, because it gives more free time (23%, ed.). The average number of milkings rose from 2.6 to 3.4. As a result, milk production immediately increased by 1.5 litres, to as much as 2.5 litres extra after a few months. We are now averaging 34 litres, with 9.9 litres per milking."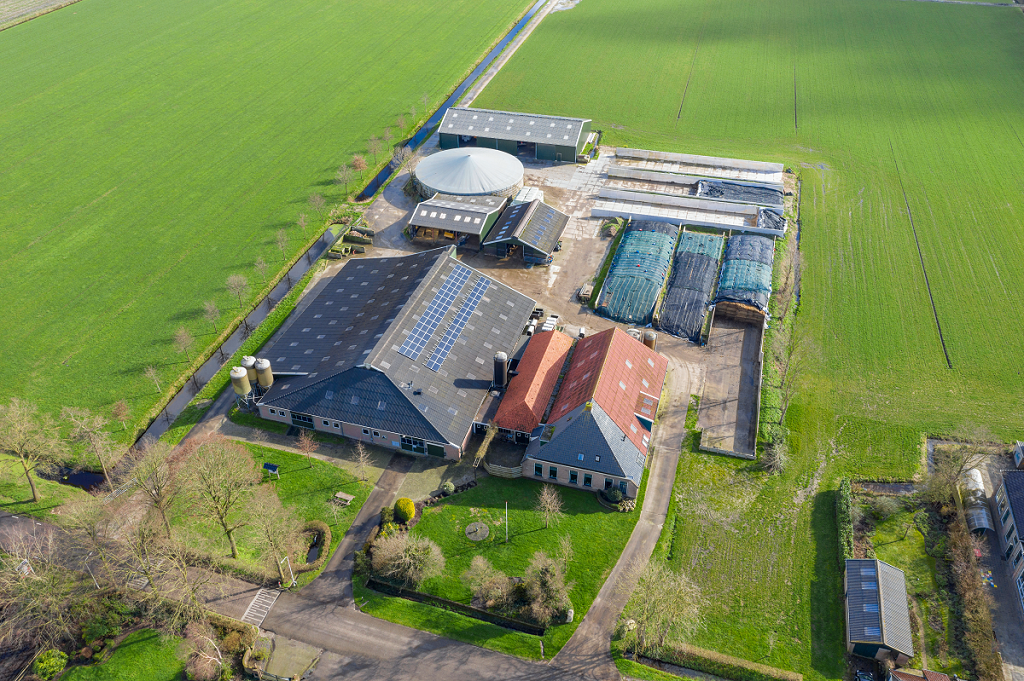 Take a tour on the Bergman' farm
'We see all the cows twice a day, we feel that's important.'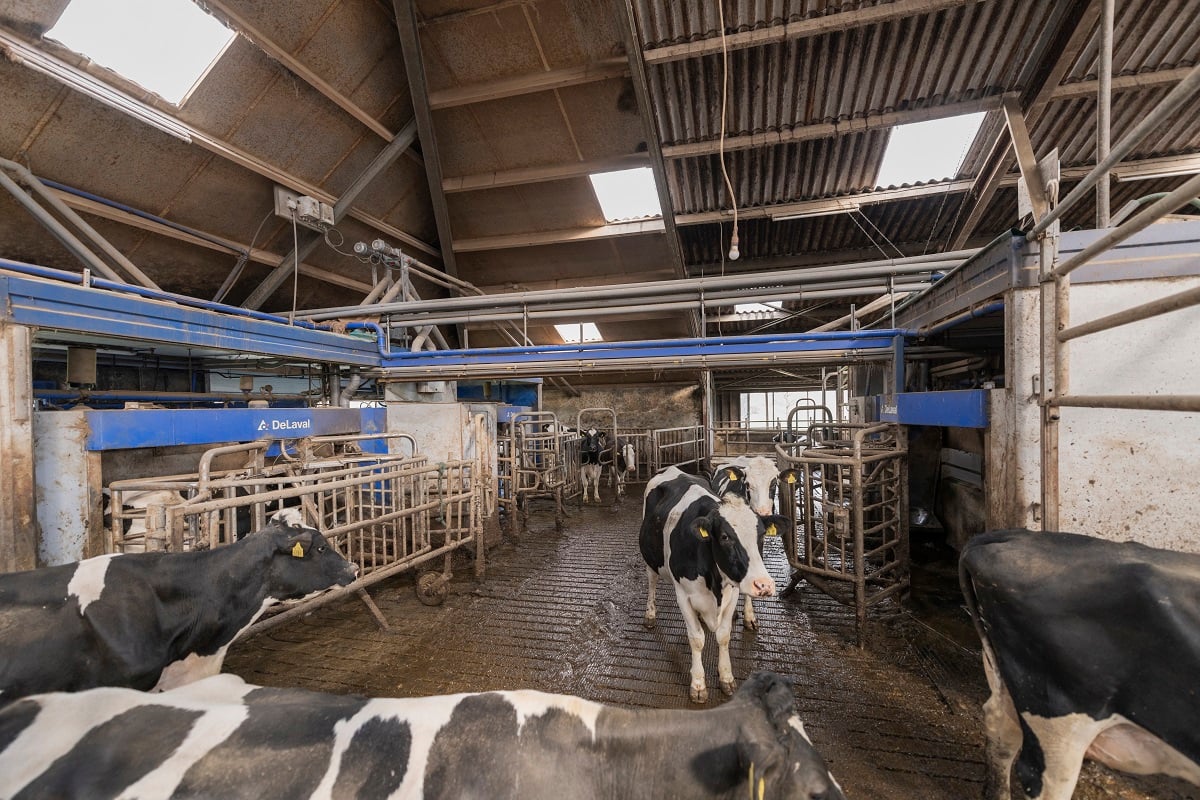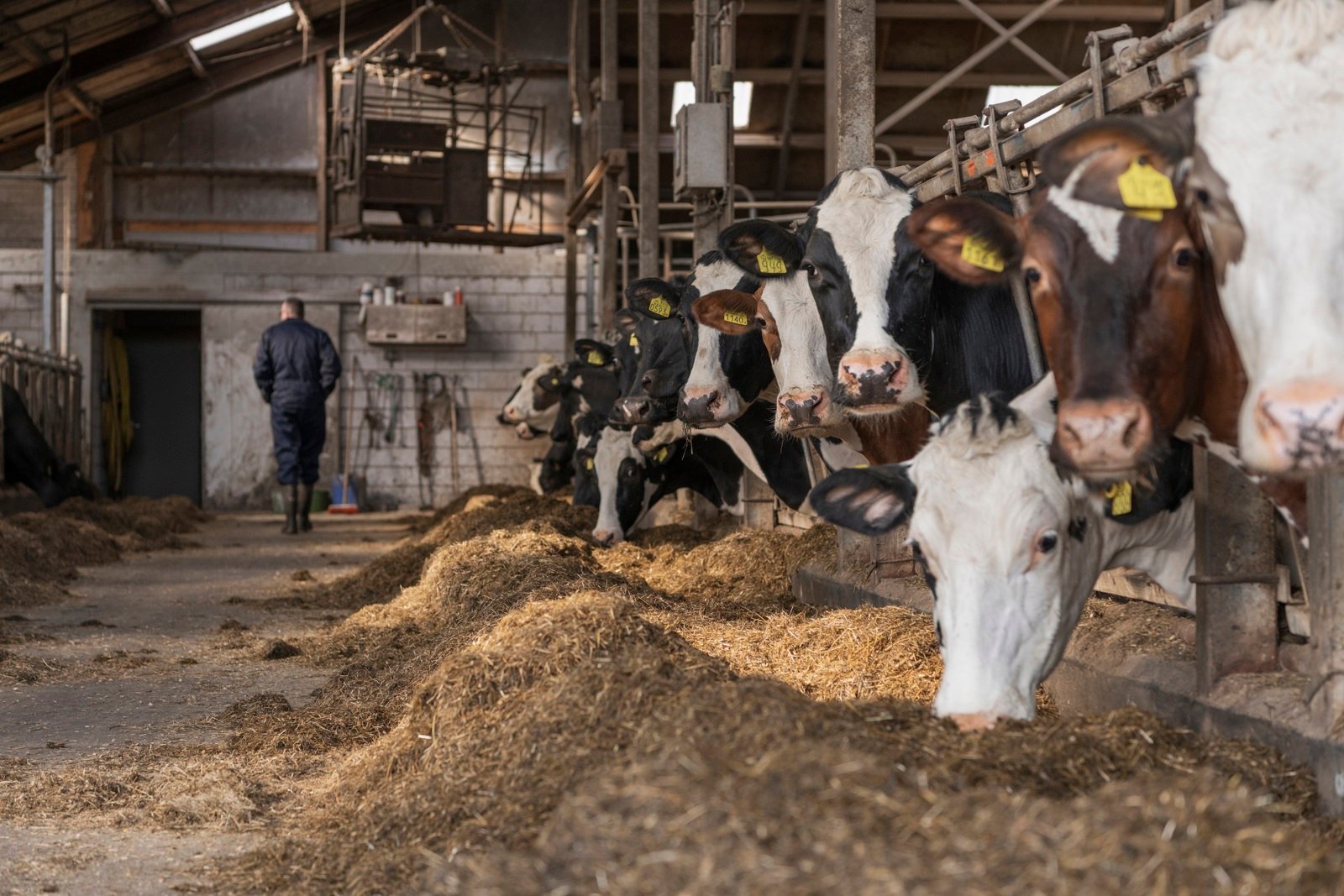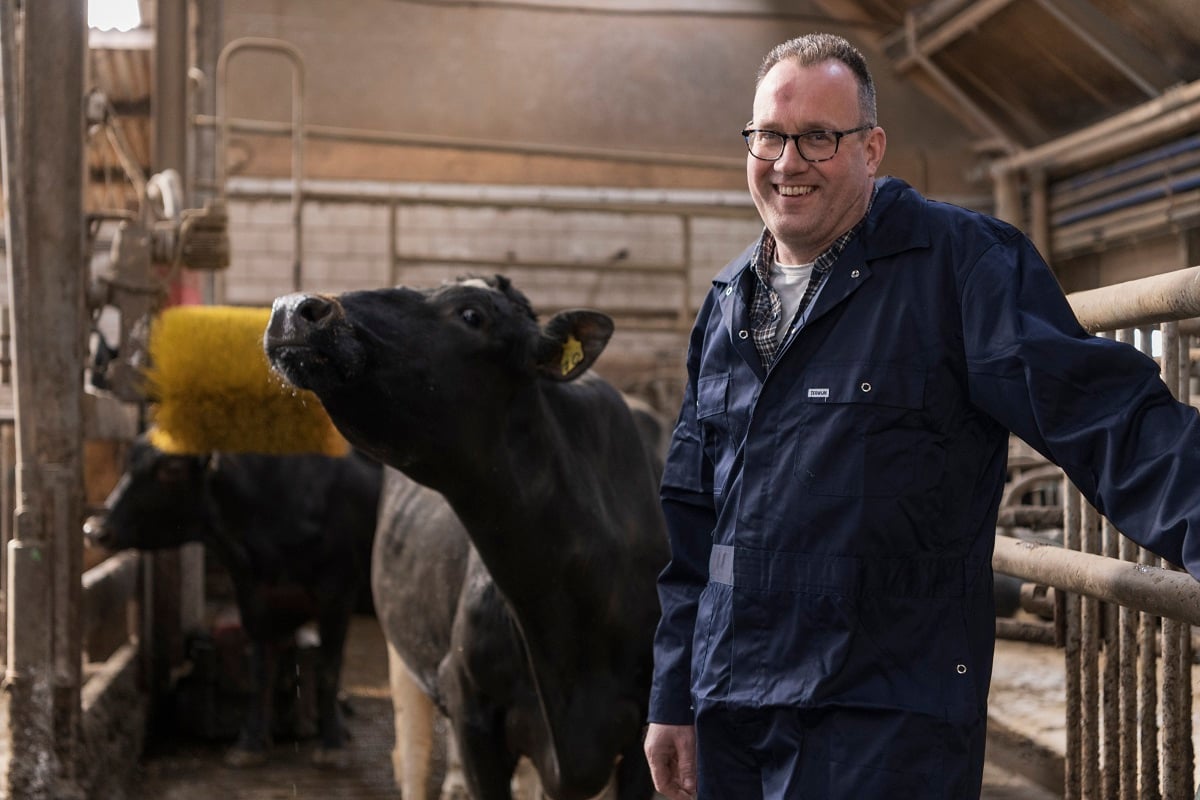 An extra robot is an investment, but it was a good move for you?
Harm: "Definitely. We recouped the investment through the higher production. And it also makes our work more enjoyable. Now it doesn't matter if one robot malfunctions in the night. We just turn it off and get an engineer to come in next day."
What did you find most difficult when you switched to robots?
Harm: "It took some getting used to for us personally. The cows immediately knew where the robots were, so we had no problems in that respect. But we had quite a lot of cows with crossed teats or short teats or cows which took a long time to milk. So, we sold all those cows beforehand, and then a few more. Making different breeding choices, that's important. We still have difficulty milking a few of our cows, but much less than before."
Do you have any tips for colleagues about the rhythm in the barn?
Jan-Harm: "We have a fixed routine for the cows. Twice a day, if necessary, we bring any cows to the robot which have not been there long enough. That's a good moment to clean the boxes, add straw and check their health. We also feed them once a day and we fill the hopper three times. That creates a calm environment and we find that this suits the cows best."
Harm: "If we are away for a day, the cows are happy. Peace in the barn does them good. Sunday is a very good day."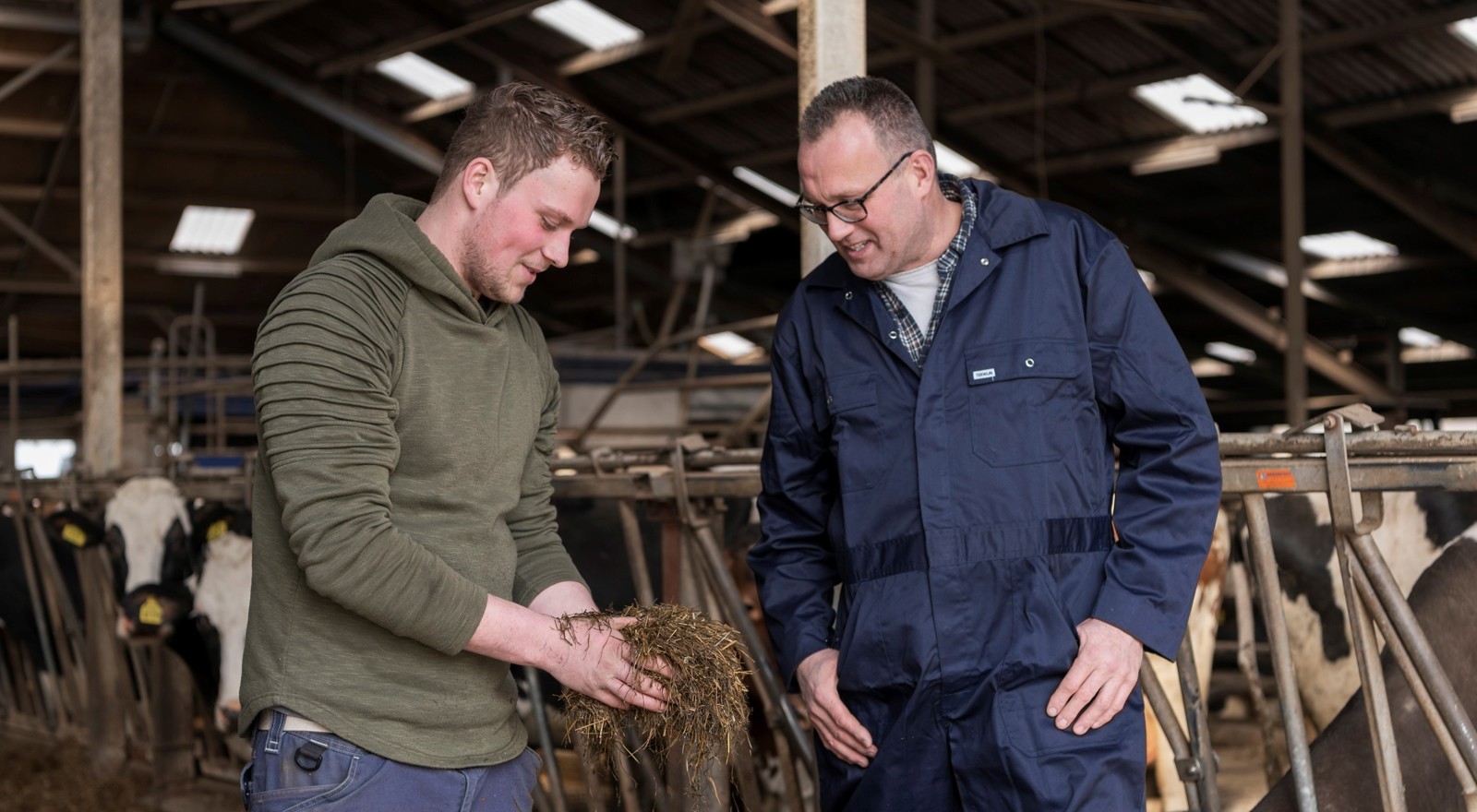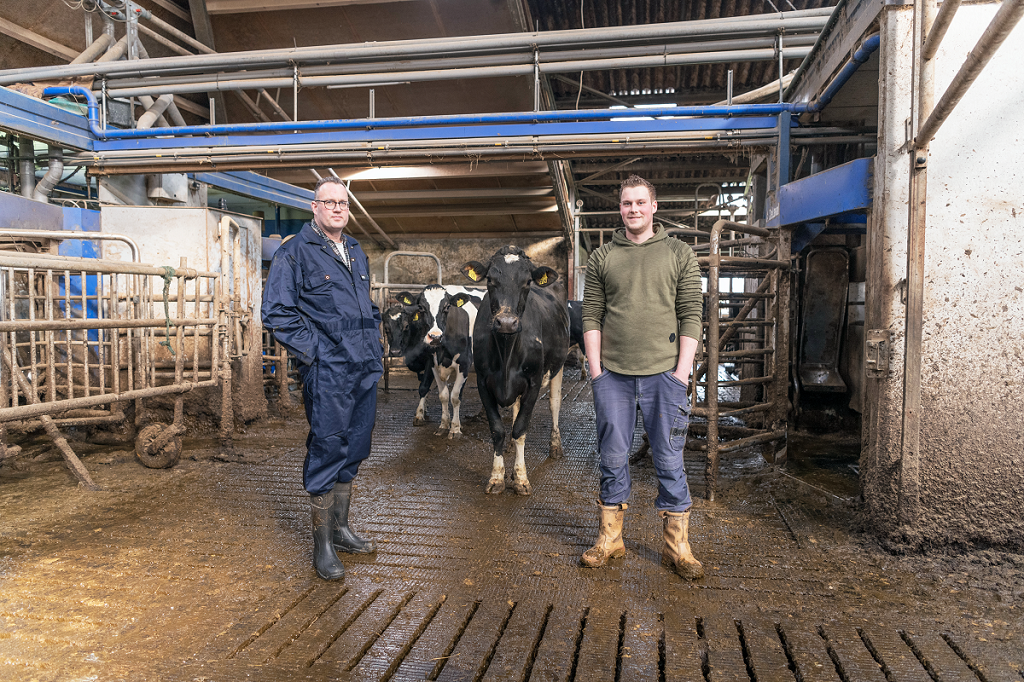 Finally, you've been a customer of De Heus for a long time. How does that benefit you as a robot farm?
Harm: "When Hendri, our De Heus Specialist, started here all those years ago, I told him that, if there was anything he didn't know, I expected him to call in someone who did. And that's what happens. Which is what makes working with De Heus so enjoyable. Hendri is very experienced and is my regular advisor. Then twice a year, Hendri brings in robot specialist Rob van Echtelt to come and check my cows and how the robots are operating."
Jan-Harm: "When you switch to using milking robots, you suddenly get a lot of data. So it's helpful when the robot specialist checks everything and makes it visual. You can then make new connections. The extra knowledge that is shared helps us move on."