Our people
Dirk van den Broek - International laboratory technician
De Heus has its own laboratory. Dirk van den Broek is International Laboratory Technician and has been working for De Heus for nearly 20 years. He not only performs all kinds of analyses in the laboratory, but he also develops analysis methods, takes samples and advises international companies on cross-contamination tests.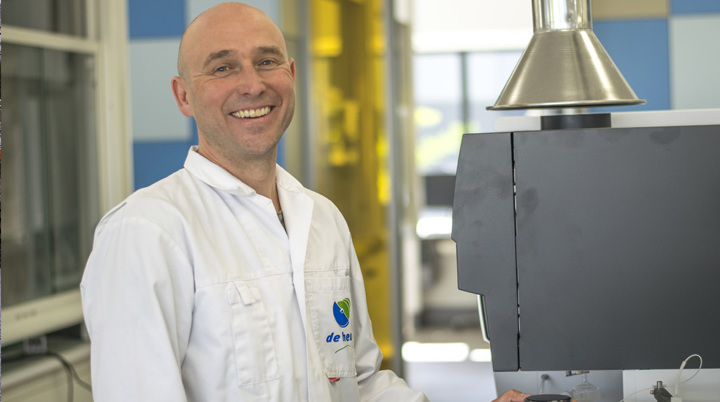 Cross-contamination tests
In the Netherlands, Dirk does the cross-contamination tests himself. Outside the Netherlands, he plays a supporting role. Either by email or Skype and otherwise on site. In cross-contamination tests, you look at what remains on the production line and what might contaminate feed that is subsequently produced on that line. Sometimes it doesn't matter, but it could potentially cause huge problems, depending on the type of feed and raw material. It is therefore important to know exactly the extent of the cross-contamination so that measures can be taken to ensure that customers receive correct and safe products.
Sense of responsibility
Dirk says that he and his colleagues at the lab feel very responsible for the quality of the raw materials and final products. 'People must be able to rely on the fact that the products meet the agreed requirements. We therefore make sure that the results of our analyses are 100% correct.'
Curious
Dirk is curious by nature. He wants to know how everything works. This was revealed back in secondary school in Dirk's choice of exact sciences. He particularly enjoyed physics and chemistry and of course the experiments - performed with varying degrees of success. It was those experiments that eventually led to him deciding to go to secondary laboratory school.
Development
Since joining De Heus, Dirk has seen many changes. 'They've enabled me to become the person I am now. Some people might have moved to another company, but things change so fast at De Heus that you develop as a person along with them. You also get plenty of training opportunities. Nothing is compulsory, but if you want to do something, you can, which is really nice.'
A happy man
His analytical characteristics mean that he enjoys solving problems. How did the problem arise, is there a difference in measurement or a trend here? In fact, they're all puzzles that need solving and he gets totally absorbed in doing just that. Dirk is particularly happy if the tests are successful. Preferably with a good result, of course, but the main thing is to do the test well and make sure that the numbers are correct. 'That just makes you feel good, because it means that everyone involved in the test has done their work well: the production employees, the production supervisor, the people from quality care and formulation. If everyone has worked well together and played their part, then I go home a happy man.'