Our people
Kadi Mey Ismail - Product Manager Aqua
Kadi Mey Ismail, Product Manager Aqua, regularly visits farmers to find out the exact conditions and requirements of the local market. During his visits, he gains information to share with his stakeholders. He works with other departments, such as formulation, QA/QC, production, purchasing, technical specialists and commercial teams to power progress in the specific field of aqua feed. Kadi: "For me as product manager aqua, one of the most important challenges is to develop aqua feed that suits the local farm needs and conditions."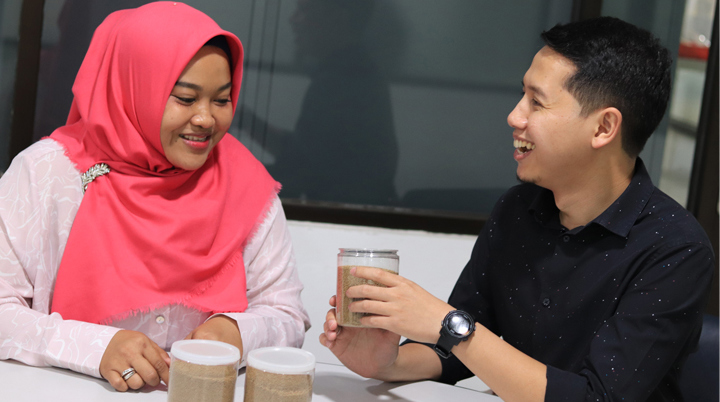 Starting the journey with an internship
His journey began when he studied aquaculture and marine resources management for his master's degree at Wageningen University & Research. Kadi applied for the internship at De Heus Global for his graduation requirements. Not long after that, he joined the trainee programme at De Heus in November 2018 where he gained experience as feed formulator supporting Vietnamese and Indonesian factories. In July 2019, he had the opportunity to work at De Heus Indonesia. "I did not hesitate and immediately said yes!" says Kadi.
Local and global insights
Working in a multinational company like De Heus is beneficial for him as he can expand his network and gain new insights from other colleagues, both locally and globally. Kadi: "I can develop skills and learn more about the feed mill industry, not only for nutrition knowledge but also for the commercial side."
Empower farmers in Indonesia
"What I like most about working for De Heus is our open culture where we can easily share our ideas with our superior without hesitation. This is why we always have the scope to learn more and grow. My ambition is to empower the farmers in Indonesia to enable them to have a better life. For me this means powering progress and it is the reason why I work so hard every day to make good feed. When you work for De Heus, you need to stay open and flexible because De Heus has great ambitions for achieving progress in Indonesia," concludes Kadi.